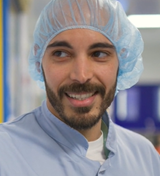 This is Walid Bennaoume
Walid pioneers as an Associate Manager Production with Technical Development and Supply, France .
"LEO Pharma takes care of its employees and contributes to everyone's development. Thanks to this people-centric structure, I was able to develop quickly within the company."
My name is Walid Bennaoume, and I am an Operational Manager of the Injectable Medicines in the Production department at LEO Pharma in Vernouillet, France. I was attracted to LEO Pharma because I have always been interested in pharmaceutical production. Additionally, the company produces injectable medications that require strict adherence to sterile processes to ensure patient safety. This challenge made me join LEO Pharma.
Working at LEO Pharma is great! Every day brings new challenges; I enjoy that my days are different, and the fact that I – on a day-to-day basis – get to learn something new regarding how to facilitate production of medication.
The best part of my job is the diversity of my tasks. In the morning, I may be on the production line guiding Maintenance Technicians in resolving a production line issue, while in the afternoon, I may be in a meeting with my supervisor developing a personnel management strategy.
My work challenges me in particularly two ways. First, as a manager, I started managing production line operators, but now I manage team leaders who may be engineers or pharmacists. This means that I must adapt to each person's needs to meet everyone's requirements. The second challenge is the technical aspect where I need to master problem-solving tools to improve our practices and question our production practices to optimize them. I also need to be knowledgeable about how production equipment operates, and it truly brings a lot of exciting challenges to solve along the way.
I am proud to bring the LEO Pharma behavior of being accountable & owning it to my work. In the Production, it is essential to be active and solve problems quickly and correctly the first time. To be effective, one must be knowledgeable and able to defend one's improvement proposals.
My skill set helps LEO Pharma deliver on its strategy and fulfill our purpose of advancing the standard of care for people with skin conditions, their families, and society. Since my third year of pharmacy school, I have wanted to produce medications in the pharmaceutical industry. I have gained experience by visiting various production sites, completing several internships and an apprenticeship, all with the goal of bringing my knowledge to produce quality medications efficiently. It is essential to deliver our medications to the market while respecting supply deadlines
LEO Pharma is the place to be if you want to have an impact. We are open to new ideas, and the company provides the means to implement them. In addition, the equipment we use is at the forefront of technology to produce injectable medications.
I also truly believe that LEO Pharma takes care of its employees and contributes to everyone's development. Thanks to the people-centric structure in LEO, I was able to develop quickly within the company. When I arrived, I supervised a team of ten people. After a year, I became a supervisor of two teams of ten people. And the year after, I then became a manager of supervisors. This really shows how you can progress year after year – and to me, that's something special and rare to be able to find in a workplace.
If I could invite any life science pioneer for dinner, I would invite Claude Galien (129-201). When a pharmacy student in France becomes a doctor at the end of their studies, they must take Galen's oath. Claude Galien was a famous physician and philosopher during the Roman Empire. He made significant contributions to medicine, including introducing the concept of humoral pathology
To me pioneering means having the courage to try new things while inspiring people around you.
Walid Bennaoume
Associate Manager Production
Technical Development and Supply, France