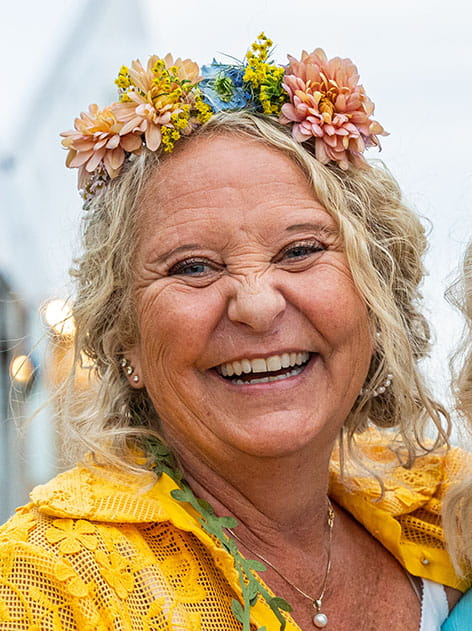 This is Lotte Hjortshoej
Lotte pioneers as a Personal Assistant with Global Product Strategy & International, Denmark.
My name is Lotte Hjortshøj, and I joined LEO Pharma in 1999. In the interim, I've held several different positions (in Pharmacovigilance, HR and Communications, R&D and beyond). I am currently a personal assistant, or PA, at the VP and EVP level of our organization.
As a PA, my work revolves around trying to make the work of others a little easier. If as a consequence of my efforts, others can tackle the next thing on their agenda when it matters, head-on and with just the right amount of preparation, then I consider it a win for everyone.
Besides those commitments, I have for years been organizing events, parties and annual Family Days at LEO Pharma. The flagship event that I help organize is undoubtedly the summer party, which is generally a huge success held just before most people go on summer holiday.
While the majority of these events are internal affairs, it nevertheless motivates to know that, beyond the walls of the company, we are helping more than 85 million patients every year. This makes me really proud of all my colleagues in LEO Pharma.
Another thing that matters to me is how we are treating each other – as colleagues, associates, professional partners and friends. I absolutely love our global collegial community for how we invariably treat each other with respect. I see it every single day! Speaking of our corporate or work culture, this is something that has been discussed widely in recent years. In my opinion, few things are more critical than establishing an environment that allows people to thrive, flourish, be productive and enjoy collaborating cross-functionally. Like the air we breathe, we all depend on our shared culture. It influences our well-being every minute of every day and all the year round. In my view, this is precisely why so much depends on everyone doing all they can to protect, nourish and enrich the shared culture through their actions.
My relatively long tenure at LEO Pharma is actually a surprising thing – even to me! First of all, it's a coincidence that I joined LEO Pharma at all. To make a long story short, I was encouraged to apply for a job here by a friend already employed by LEO Pharma. And then, once I had joined, I remember thinking, "Okay, this is nice. But it will probably begin to bore me in not so long…"
Guess what! The exact opposite thing happened! Two weeks after joining,
I was having the time of my life at LEO Pharma! I love being a personal assistant – a role that's all about facilitating and enabling the work and effectiveness of others. From a certain perspective, the events I am responsible for serve a similar function: By generating some spirit, sparkle, joy and energy, by inviting people to enjoy themselves and get to know each other, I hope they contribute to making the journey a little more fun for our people, regardless of how they are helping LEO Pharma be successful. I like to think that by doing my part, others can do theirs a little more easily than they otherwise would.
Like the air we breathe, we all depend for our well-being and productivity on a great shared culture at work. This is why so much depends on all of us doing all we can to protect and enrich it through our actions.
Lotte Hjortshoej
Personal Assistant
Global Product Strategy & International, Denmark